SIDRA400
Long live the AS/400 ¡¡¡
Martin Ortega Novella&nbsp &nbsp11 Abril 2013
25 years of IBM i innovation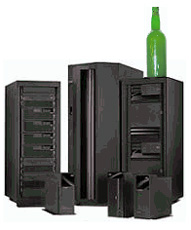 Fue un día de Junio de 1988, con la ayuda del actor de una famosa serie de televisión llamada MASH show, IBM lanzó el nuevo AS/400.
El AS/400 rápidamente se extendió en empresas de tamaño medio y empezaron a aparecer aplicaciones de todo tipo.
Conocido por su simplicidad y fiabilidad fue una explosión dentro de la gama de sistemas medios, la gente no se quedaba impasible ante esta máquina, surgieron verdaderos apasionados del AS/400.
Recuerdo un artículo publicado en la revista ServerNews de mi ciber-amigo Albert Blanch que tenía como título "Sea un i-vangelista: defienda lo que ama"
Ha llegado la hora de defender la valía del entorno AS/400 con argumentos concretos y no con simples generalizaciones. El potencial del IBM i en Power System es enorme y debe estar preparado para convertirse en un i-vangelista del entorno.
El artículo lo firmaba Jeff Carey, está claro, me identifiqué claramente con el contenido, no me quedaba más remedio, yo hacía años que era un i-evangelista (me gusta más con la "e" de evangelista), no solo por mi blog con el que empecé en el 2006, yo llevaba unos cuantos años con mi servidor Domino y mis artículos sobre AS/400 y Lotus hechos a pelo, como por ejemplo el que muestra este enlace, es un formulario de Notes con una serie de campos y fórmulas que muestran el contenido según vayas pinchando en el menú izquierdo.
Desde luego mi presencia en la web me sirvió para conocer a mucha gente con las mismas inquietudes que yo y sobre todo me sirvió para estar al día, para formarme, para no perder el contacto con un sistema que me apasionaba, de hecho en IBM estuve unos años trabajando con otros sistemas pero cuando tuve oportunidad volví a hacer lo que más me gustaba.
Ahora, cuando IBM anuncia "25 years of IBM i innovation" me trae un montón de recuerdos, voy a tratar de seguir conectado a esta gran máquina, claro, ahora de otra manera pero hay una cosa que tengo clara, IBM celebrará el "50 years of IBM i innovation" (espero que no la caguen otra vez y no le cambien el nombre de nuevo), y esa gente que en su día dijo eso de "The AS/400 is dead. Long live the AS/400" espero que sepan rectificar y quitar la primer parte de la la frase, me quedo solo eso de "Long live the AS/400".
Bueno, debajo dejo un enlace con la página de IBM que habla del tema.



It was June 1988 and with the help of then stars from the hit television show M.A.S.H., IBM launched the new AS/400. At the time, AS/400, now IBM i and part of IBM Power Systems, helped businesses, worldwide, transform the delivery of IT. Created as an application system, the AS/400 helped fuel the explosion of industry applications for mid-sized companies. Renowned for its simplicity and reliability, it generated the industry's most passionate user community. Sold through business partners, with new approaches to IBM service and support, it forever changed how IBM provides an exceptional experience to clients.
Today we celebrate IBM i at 25.
Through the collaborative efforts of our clients, Business Partners and ISVs, IBM i has helped to create a new wave on innovation that continues today. Businesses invested in a system that—through integration— promised it would be easy-to-use and offer low cost of operations. A system that promised investment protection for applications whatever new technologies might emerge.............................


SIDRA400
Entrada